Find Out How Mustangs Roam
Get ready to experience the buzz of campus life at MSU Texas! Our campus is full of energy all year round, providing a supportive and welcoming environment both inside and outside the classroom.
As part of the Mustangs community, you will have plenty of opportunities to engage with your peers through student organizations that cater to a wide range of interests. Plus, our safe and spacious residence halls offer comfortable spaces to live and build connections with fellow students that feel like home.
For you to maintain a balanced and healthy lifestyle, our campus provides access to a variety of wellness resources. From fitness facilities to mental health services, we prioritize your well-being so you can focus on your academic goals.
We cannot wait to see you on campus. Join the stampede!
100
Student clubs and organizations that span across a wide array of interests and purposes
720
Average number of students who work on campus for work-study or in other student employment capacities
22%
Of MSU Texas Mustangs live in the residence halls
Life on Campus
Life at MSU Texas is a vibrant and dynamic experience. There is always something happening on campus — social events, clubs, intramural sports, fitness classes, and more — where you will have countless opportunities to connect with other students, make new friends, and try new things. Living on campus also provides closer, more convenient access to academic resources and support, including study groups and tutoring, that can help you achieve academic success.
Living at the core of the campus community can provide a sense of belonging and make your college experience more memorable. Whether it is attending a concert or cheering on the Mustangs at a game, there is never a dull moment on campus.
We are excited to welcome you to MSU Texas on moving day! Learn more about your housing options and our many dining options and meal plans.
Annual Events and Festivities
Getting Around on Campus
Hot Spots on Campus
When you are on campus, everyone does their best to make sure you feel connected to a group on campus. There's so much to do here!

Jamar Thomas Jr., Class of 2025

Major: Industrial Technology | Minor: Computer Science

McCoy College of Science, Mathematics & Engineering
Get Involved at MSU Texas
At MSU Texas, there is never a dull moment! With more than 100 student organizations, a vibrant Greek system, and a diverse range of social, cultural, recreational, service, and leadership activities, there is truly something for everyone. Whether you want to pursue your passions, make new friends, or develop new skills, our campus offers endless opportunities for personal and professional growth. Participate in events and activities that align with your interests, engage with like-minded peers, and create unforgettable memories.
Fraternity & Sorority Life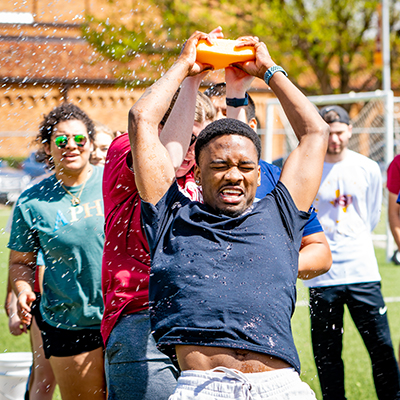 With 13 chapters represented on campus, Fraternity & Sorority Life can be an exciting community to join with multiple benefits. Develop your leadership potential while enjoying the fun to be had through social and service activities. Take advantage of addtional academic support, alumni networking, and having the guidance and bonds of brother and sisterhood.
Volunteer/Outreach
Do you find joy in helping others?
At MSU Texas, there are many opportunities to volunteer your time and work with the on-campus and off-campus communities. From helping out on move-in days to participating in larger events like Maverick's Day of Service, we are always looking for extra helping hands.
Leadership
At MSU Texas, we pride ourselves in the fact that we are responsible for creating the leaders of future generations. Each year, we host two leadership conferences — iLead in the fall and weCONNECT in the spring — with keynote speakers and breakout sessions.
Are you ready to become a great leader?
I visited and thought the school was beautiful, particularly the business department. I really like all the activities that are available on campus, and I enjoyed my first year and getting to meet so many people.

Jenna McBride, Class of 2024

Major: Accounting

Dillard College of Business Administration
Health
Whether you need a checkup when you are feeling under the weather or want to check in for routine visits to maintain your physical or mental well-being, our health and counseling centers are available to support you.
Wellness
Get and stay active at MSU Texas. Whether you love sweating under the sun or prefer working out in air-conditioned spaces, we have you covered.
Explore Sikes Lake and our athletic fields for outdoor recreation or the Redwine Wellness Center for indoor classes and facilities.
Safety
You deserve to feel safe and secure while you pursue your dreams at MSU Texas.
The MSU Texas Police Department is hard at work 24 hours a day, 365 days a year to ensure your peace of mind. Whether you are studying late at night, hanging out with friends or just enjoying some fresh air, our officers are here to help whenever you need it.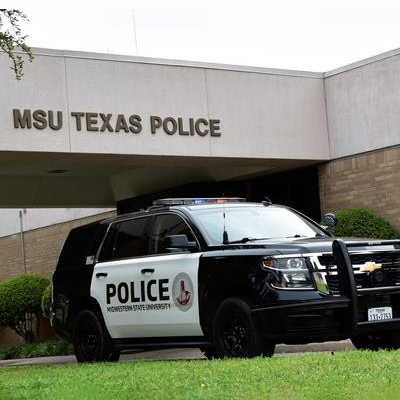 Student Life FAQs
How can I stay informed about campus events, news, and important announcements?
How do I get my student ID or where should I go if I lose my student ID?
Campus Cards are issued by the information desk in Clark Student Center, room 116. If your card is lost or stolen, immediately contact the Clark Student Center at 940.397.4223 to deactivate it. There is a $20 replacement fee.
Where do I get my packages and mail if I live on campus?
The campus post office is located in the south end of the Clark Student Center. This location is where you will find parcel lockers and manned office windows where you can pick up your packages.
Post office boxes where you can pick up letter mail are available at three select residence halls:
Sundance Court: Post office boxes are available to residents of this hall
Sunwatcher Village: Post office boxes are available to residents of this hall
Legacy Hall: Post office boxes are available to all other students living in on-campus housing
How do I request academic accommodations or support for disabilities?
Connect with
Disability Support Services
(DSS) and fill out the DSS Form. It is available as a PDF and as an online form — choose the option that works better for you.
How do I connect to MSU Texas' secure Wi-Fi?
In the residence halls, you will have access to Resnet.
When you are out and about on campus, you will want to connect your devices to the MSUSecureWireless network. Instructions are available on the IT Wireless page.
Visit Us

Drop in or Call
No scheduled appointment is necessary.
We are located in the Clark Student center, in building 14 on the campus map.